Brisk Links Dash Cam Full HD 1080P, Durable Low Profile Design, 156° Super Wide Viewing Angle, G-Sensor, Loop Recording, Super HDR, Motion Detection, with Bonus Multi Optional Mounts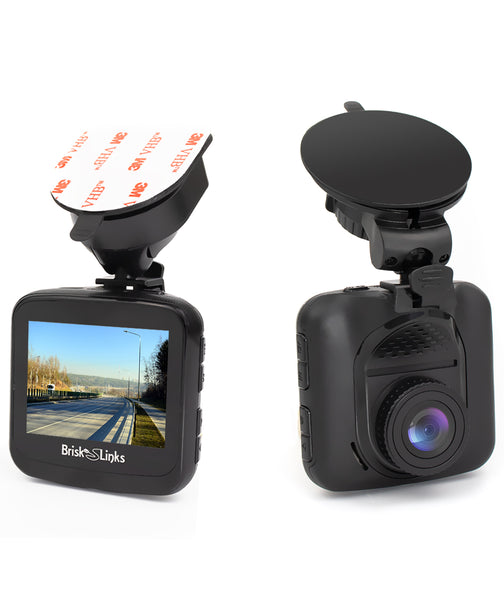 Brisk Links Dash Cam Full HD 1080P, Durable Low Profile Design, 156° Super Wide Viewing Angle, G-Sensor, Loop Recording, Super HDR, Motion Detection, with Bonus Multi Optional Mounts
Full HD 1920x1080 super wide 156° Viewing angle Dash Cam, with a durable low-profile design, makes the LB-100 the perfect hidden witness with you on the road.

F2.0 Six-Glass Lens with Street Night-Vision. Loop Recording, new recordings will automatically overwrite oldest recordings when the memory card is full. Auto Power ON/OFF, with "optional" delayed Power ON/OFF.

G-Sensor & Emergency Lock Button, auto-detection feature that will detect any sudden jolt or vibration such as a collision, the camera will auto lock that file not to be overwritten. "Optional" Motion Detection feature.

Playback Mode on a 2.4 Inch LCD Screen. Easy Installation with two fully adjustable mounts, as a bonus select between a suction cup mount or adhesive mount.

1 Year Limited Warranty. Customer Satisfaction Guaranteed. Micro SD Card Required "NOT INCLUDED" Supports up to 64 GB Micro SD Card.
Brisk Links Dash Cam LB-100:
The LB-100 is your roadside eyewitness, automatically starts recording when you turn on your car hands-free in a continuous loop, with its compact discreet yet durable design, allowing you to take ultra HD photos, and allows you to playback on a 2.4 Inch LCD Screen.

Auto LCD OFF:
The Camera has auto LCD off timer which enables the LCD to be turned off automatically after the recording begins so you won't be disturbed by another glowing rectangle on your windshield, you can also turn this function off if you prefer the LCD to stay on.

Date/Time and Plate Number Stamp:
This "optional" feature is especially useful if you need to use your video footage as evidence at times, make sure the date and the time are correct when you install your camera.

Easy Installation With Multi Optional Mounts:
The camera is easily mounted to your windshield using the included adhesive mount or the suction cup mount, fully adjustable mounts so you have the ability to turn the camera in any direction if needed.

Loop Recording and Gravity Sensor:
With Loop Recording, new recordings will automatically overwrite oldest recordings when the memory card is full. When the G-sensor detects a collision or impact, the current video file will be locked, you also have the ability to manually lock a file not to be overwritten.

Important:
1) Please make sure to read the manual and follow instructions before using. 
2) Always format new SD cards on the camera before using them.
3) Please use only a Class 10 / UHS-I or higher Micro SD Card/SDHC/SDXC memory cards, up to 64GB (NOT INCLUDED).

What is included:
LB-100 Dash Camera
11 Feet Power Cord
Adhesive Cable Clips
Adhesive Mount
Suction Cup Mount
USB Cable
User Manual