Brisk Links VGA To HDMI Adapter Converter, Output 1080P HD Video Cable With Audio Support For TV/AV/HDTV - Includes Bonus High Speed HDMI Cable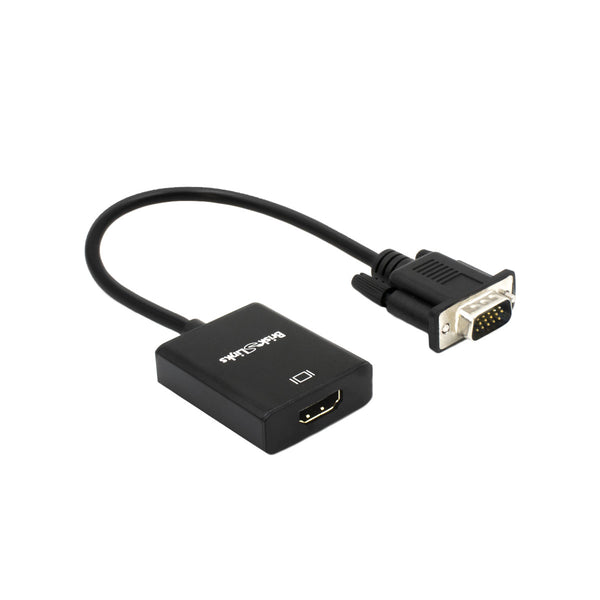 Brisk Links VGA To HDMI Adapter Converter, Output 1080P HD Video Cable With Audio Support For TV/AV/HDTV - Includes Bonus High Speed HDMI Cable
Converts VGA Male to HDMI Display, With Audio.

Supports Resolution: 720P/1080i/1080P.

This converter is NOT bi-directional, It only converts the signal from VGA to HDMI, not HDMI to VGA.

Supports Audio Function for HDMI Monitor and TV.

Input: VGA (DB15 Male) and Audio (3.5 Gold Audio Jack) - Output: HDMI (Type A 19pin Female).

Powered by USB Port - Plug and Play - Included with a Bonus High-Speed HDMI Cable.
Brisk Links VGA to HDMI SB-1:
The adapter comes with the compact portable design, allows you to convert analog VGA output from most PC's and laptops to your HDTV, Easy operation and convenient to use,

Specification:
Supports Resolution: 720P/1080i/1080P,
Share your video/audio/data from computers or notebooks, desktops, laptops that has only VGA port to any HDMI – equipped devices like HDTVs, monitors, displayers for big screen viewing,
The device is plug-and-play, it will automatically sense the native resolution of the display and scale the computer's output to match it.
The converter will take audio signal from the computer and embedded it into the HDMI signal output, so that the user is able to enjoy both audio and video through a single cable, 
Included with a Bonus High-Speed HDMI Cable,

Compatible Mode:
The usually use system: win7, win8.

How to use:
1) Insert the VGA interface into the computer or other equipment with the VGA output,
2) Plug the USB and Audio connector into the related interfaces,
3) Insert the other connector into the HDMI cable, and then connect the HDMI cable to the displayer and the projector device with the HDMI interface,
4) Play the video, PPT and documentation, the image will display on the screen of the other display device,
5) This converter is NOT bi-directional. It only converts signal from VGA to HDMI.

What is included:
VGA To HDMI Output 1080P HD
Audio TV AV HDTV Video Cable Converter Adapter
USB cable
High-Speed HDMI Cable
User Manual